GEAR OIL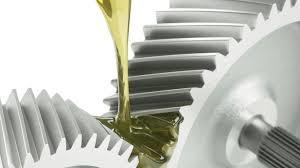 GEAR OIL
Service Description
High Performance Gear Oils
KYROS SUPERGEAR SP Series Gear Oils are high performance oils formulated from high quality paraffinic base stocks and synergistic additive packages which include specially selected sulphur phosphorus type extreme pressure compounds. These oils exhibit excellent ageing characteristics, good corrosion protection properties and excellent demulsibility. These oils meet IS 8406:1993 requirements.
Product Features & Benefits Good oxidation stability and ageing resistance Excellent Extreme Pressure Resistance Excellent corrosion protection for steel and non ferrous metals Low foaming characteristics
KYROS SUPERGEAR SP Series oils are recommended for all types of heavy duty enclosed gears operating upto 100o C. These oils are suitable for both circulation and splash type lubrication systems. These oils can also be used in sealed circuits to lubricate bearings, gears, regulators, chain drives and couplings.